CD replication at your CD/DVD manufacturer from Cologne
Why should you press your CDs/DVDs at deineScheibe?
Expert advice via phone or email
All prices include glass master and shipping
Free basic data check
For quantities of 200 and up (on request at 50) we already replicate and print in best industry quality.
Europe wide shipping
CD in CD-Digipak 4-panels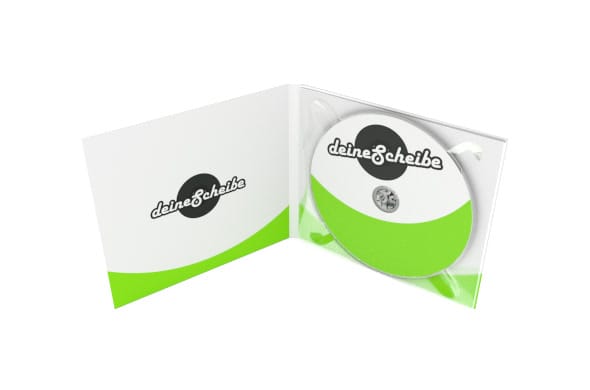 Our 4-panel digipak is the absolute classic for your CD or DVD. In combination with one or two transparent trays on the inside does it offer enough space for your creative ideas. The digipak has more printable and visible packaging surface and is slightly flatter than our jewel case. You have especially large space for your designs because of the four printable sides. The clear trays are the highlight. They allow you to see the print area behind your CD or DVD.
A high-quality booklet for your lyrics and images offers enough creative space for your information. This packaging is also available without the booklet slot or with up to 2-trays for your CDs or DVDs.
CD in CD-Digipak 6-panels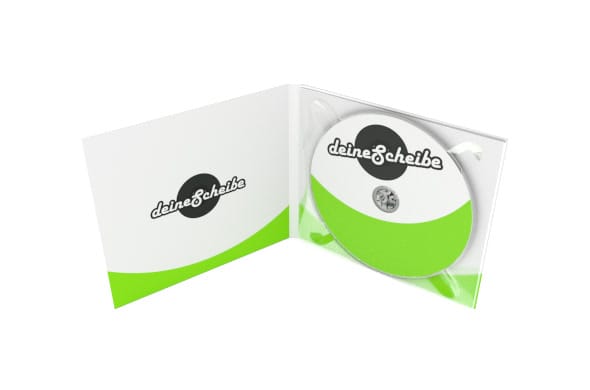 With six pages, this digipak offers more than enough space for your content. Take advantage of our numerous packaging options to realize your creative vision: without compromise. Define the position and number of trays of your 6-page digipak. Booklet or covercard are optionally placed in the booklet slot or bookletsleeve. You can also do without a booklet to use up to 3 trays for your discs. This package is suitable for many contents, e.g. For your limited editions or special editions. Your buyers will see, feel and, of course, hear the added value of this high-quality CD / DVD packaging.
CD in Jewel Case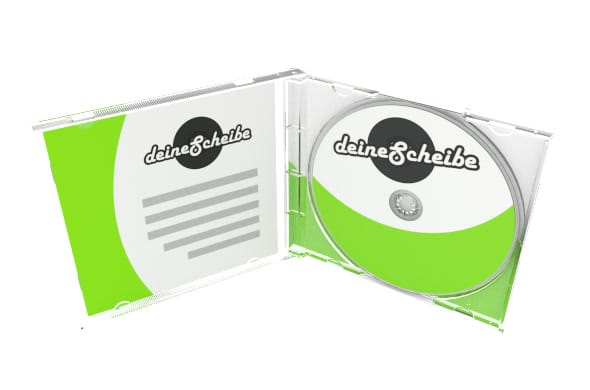 The jewel case a.k.a. jewel box is one of our most popular products and the best selling packaging for CDs on the market. The standardized case has been convincing over 30 years through its classic and stable design. The jewel case holds a CD on a tray which can be black or clear. A booklet, which is also used as a cover for the jewel case, can be inserted into the front flap. The inlay card is inserted under the tray. This card is folded so that the sides of the jewel case can also be labeled. It can also be printed on the inside, even with a black tray where it can be a kind of an "easter egg".
DVD in DVD Digipak 4-panels, 1 Tray with Slot for Booklet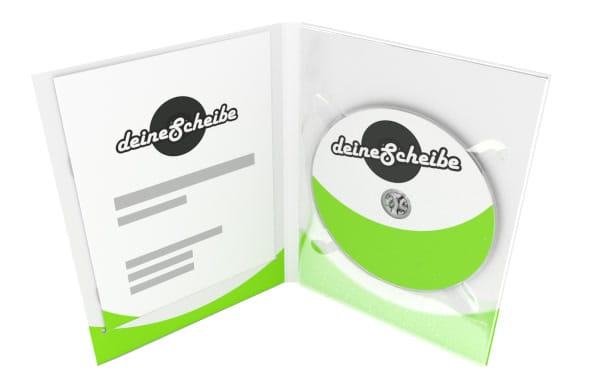 The DVD digipak with its somewhat unusual packaging is immediately striking and is a good option for your discs. Minimalistic and straight forward, you have a lot of space to express yourself creatively. The DVD digipak is also available with one or two trays or a slot for a DVD booklet.
The DVD digipak has similar dimensions as the DVD box and fits in any DVD collection. The transparent trays have the advantage that the design behind it is also visible.
All in all, the DVD digipak is an interesting alternative to the usual suspects and the DVD box.
DVD in DVD Box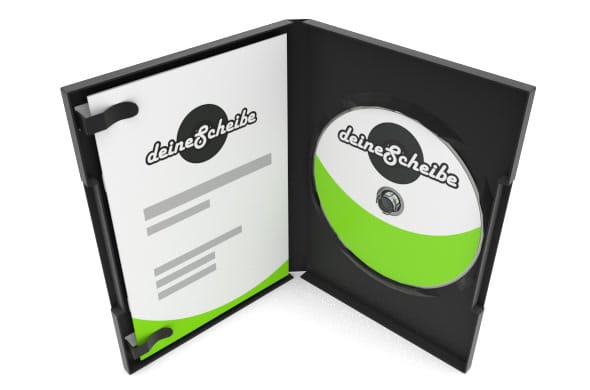 The well known DVD box can be found in almost every movie shelf: our DVD box with printed DVD inserts guarantee a good impression. The standardized DVD box can hold one disc. Two holders on the inside of the front flap can hold an additional DVD booklet or DVD cover. The DVD insert or inlay is wrapped by a transparent plastic foil. All prints are produced in the high quality 4-color printing which will impress with their color quality. Our default DVD box case is black. You can also put your CDs / DVDs in a transparent case.
2 CDs in Double CD Jewel Case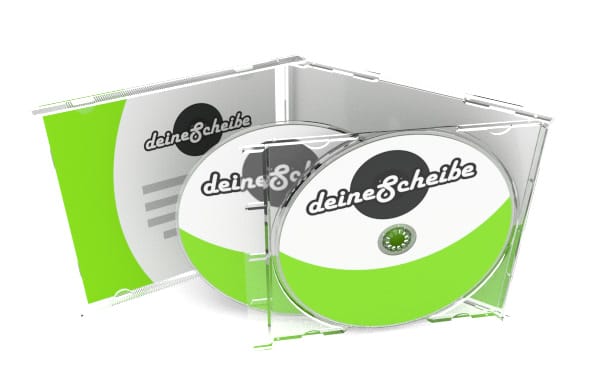 In contrast to the jewel case with a rigid tray, the double CD jewel case has a folding tray for two CDs or DVDs on the front and back. Under the tray fits, like usual, an inlaycard. A booklet can be used as with the normal jewel case.
So if you need a little more space, this packaging is exactly the right one!
The double CD jewel case is usually used for audio books or compilations. The double CD jewel case can be shrinkwrapped (thermally sealed) if required.
CD in CD-Digifile 4-panels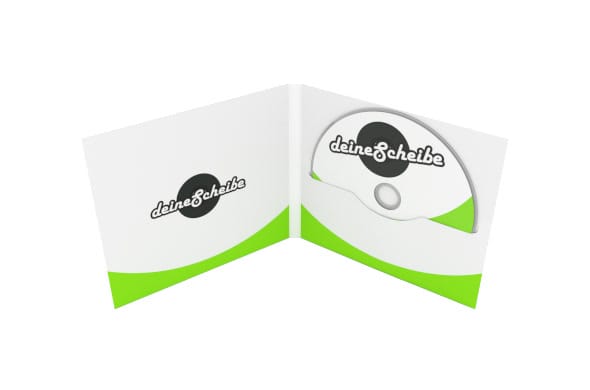 The digfile has dimensions similar to the jewel case and fits comfortably in every collection. Instead of trays, the digifile has special CD slots from which you can easily pick your CDs or DVD. In addition, you can order a booklet slot and also a second CD if desired. That's why the digifile does not have to hide from the other packagings and keeps what it promises. Without plastic, the digifile is a good alternative for anyone who values environmentally friendliness. We also offer recycling cardboard material for all who want to go a step further.
CD in CD Digifile 6-panels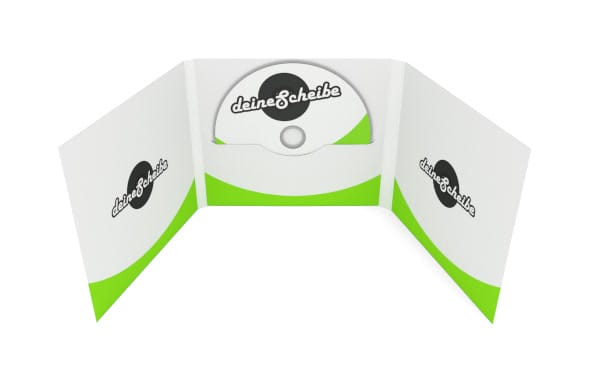 The packaging with the little extra. Suitable for several CDs / DVDs and an additional booklet. The specially shaped CD slots will present your CDs or DVDs aesthetically and offer unimagined possibilities for every designer.
A lot of space to realize your creative vision without any interfering plastic in the way. With the 6-panel digifile, your CDs or DVDs are in perfect hands. The one who wants to stand out and wants to do something good for nature decides for this packaging.
CD in CD Digisleeve 4-panels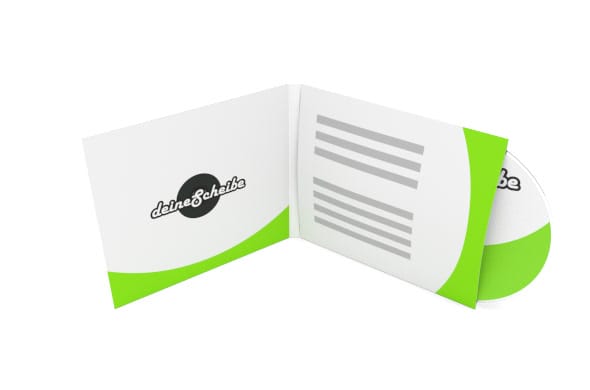 The 4-panel digisleeve is a stylish and timeless packaging with the advantage that the design is not interrupted by a CD tray. Without a plastic tray, your artwork is visible without restrictions and brings out the best side of your CD or DVD.
The CD / DVD can easily be removed from the sleeve, but still does not fall out easily.
CD in CD Digisleeve 6-panels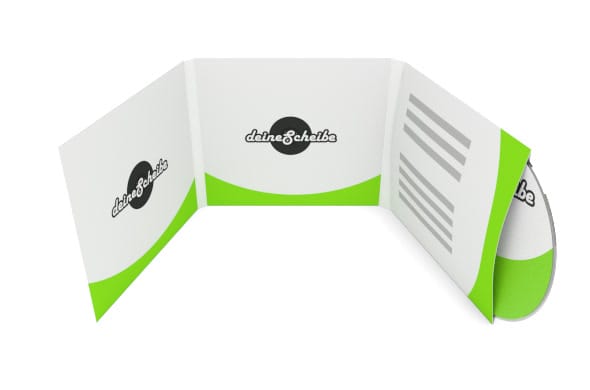 Compact and yet full of features, the 6-panel digisleeve does stand out from the competition. A continuous design is possible and thanks to the sleeve the CD or DVD is safe from scratches.
We use a high-quality 250gsm/m² chroma carton which gives the product its stability.
The tunnel sleeves are open, left and right, on both sides. The discs can be easily removed and will still hold the CD / DVD. The default digisleeve is slightly glossy, but is also available in many other varnishes. Your project will look particularly striking!
CD/DVD in Cake Box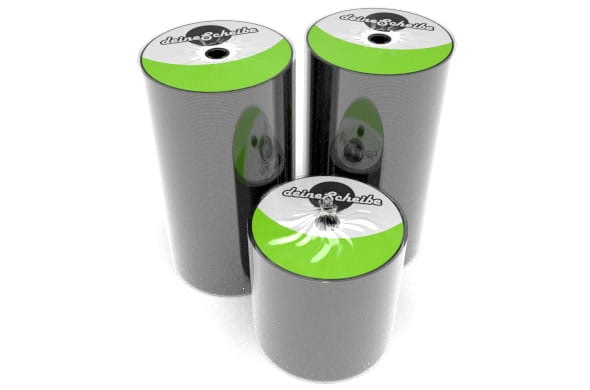 The most affordable!
We replicate our high quality CDs and DVDs starting already from a quantity of 200 pieces. This gives everyone the possibility, to produce their album in their own design. With our CD/DVD calculator you can easily compare all prices. Small print runs are also no problem because we start printing already from 1 piece. You can also easily configure an individual quantity for your short run with our calculator.